With the help of dating apps, the way we socialize with others has definitely changed. This change is so obvious that younger generations can't even remember how society was before dating apps.
It is not just about how we are searching for love relationships or partners nowadays, it is also how we are able to deal with challenges such as expressing our emotions, sexual satisfaction, how we deal with anxiety, with loneliness, with boredom and even with our mental health. How we treat others has changed too.
These are significant signs that dating apps are changing dating and our society:
1. Meeting someone isn't a big part of social life anymore
Not so long ago people would meet each other through school, work, friends, or family. In order to find their perfect match, they would need to interact with a lot of people personally, to be active in society, and to go out and meet people face to face.
People would hang out in bars, laugh with each other, dance together, talk face to face before they were sure they have developed some romantic or sexual feelings towards each other. It was one big MUST to have a social life before you could have a chance to meet and date someone.
Today, with so many dating apps, if you want to meet someone you don't need to go to any social places beside online networks. It is you, your smartphone or computer, and the comfort of your own four walls.
No other people, no social surroundings, no bars, no public places, nothing. Just you and technology.
For introverts, this is a perfect solution. They can have a feeling of actively taking part in society, but not in a way that stresses them out. On the other hand, if you are an extrovert, this must be agonizing. You wish to be surrounded by many people, to communicate within a large society, but unfortunately for you, there is just a small community of dating app users who are available for you.
Aren't you asking yourself every day – where did my social life go?
2. People are not able to express their true emotions personally
Hiding behind technology for some people can be very encouraging in a way to present themselves more openly than they really are. They can easily write anything that crosses their mind at that moment on dating apps, both polite and rude.
Surprisingly or not – they can lie to you! But, when they need to face someone personally and speak about feelings and emotions, they tend to step away.
Having a conversation on dating apps feels like you are talking to some stranger and so you also behave like a stranger, revealing just the best things about yourself. It became so unusual and strange to face our date and say how we feel about something or someone. Hiding emotions behind the technology is so easy, isn't it?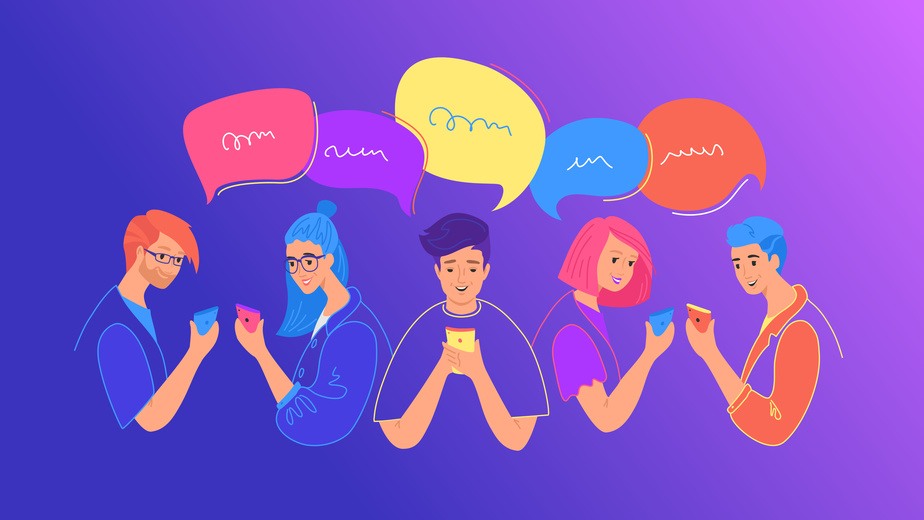 3. Women became initiators of dates
Society changed when women took the initiative in different circumstances of life. There is no longer a strict division between "men's work" and "women's work" when it comes to dating apps. With the help of dating apps, women are now messaging men first or even inviting them on a first date. There are dating apps like Bumble who even allow only women to initiate communication in heterosexual dating.
However, one research shows that 93% of women are more comfortable with men being the initiators of the romantic relationship and only 16% of men are comfortable having a woman asks for the first date. Change in the relationship is there, but it is still in progress.
4. Setting up boundaries between personal and professional
Meeting someone at or through work to date was the usual way of how people would connect. Nowadays, in a time when sexual harassment has been reported more than ever before, especially at workplaces, it seems that inviting someone from work to date isn't the best idea.
Millennials are setting up boundaries between the personal and the professional when it comes to dating. Dating apps offer them a safe zone to meet people who are out of their work environment.
5. Marketing and consuming behaviour has changed
Our interactions with technology, in general, have certainly changed the way we consume products and services. Marketing messages have been tailored in a way that suits our online activities as well as our dependence on technology.
Dating apps are not excused from these new online marketing trends. Many brands came up with marketing campaigns which are connected to dating and influencing the consumer behaviour of those who are active in the online dating world.
Domino's Pizza was the first brand to advertise on dating apps, but today we can see other companies like Uber and Spotify using dating apps as a key channel to target a younger, digitally-driven potential consumer.
Some authors are predicting that this new trend could even transform the dating scene into a virtual marketplace where singles could shop for each other (like Amazon for human companionship). But, let's keep our brakes on going down the hill and get to that point slowly.
6. Single-culture is a new pop-culture trend
Tinder recently released the new brand campaign "Single, Not Sorry" celebrating a single-culture, the new social trend that is related mostly to a younger population.
This is not very surprising knowing that experiencing simple joys outside the complex commitment of relationships or marriages is very attractive to young people. Compared to married people, single people have more friends and larger social networks.
Not being afraid to also express their special interests, they join communities of like-minded people for several reasons.
They also do more to maintain their relationships with their friends, relatives, neighbours, and coworkers. Some 81% of respondents surveyed by Tinder said that being single benefitted them far beyond their romantic lives – listing gaining new friends, dedication to work, and personal wellness as their top advantages.
This is also how the new single-culture is changing the main purpose of dating apps for younger generations. Instead of searching for love and relationships, they search more for friendships and companionships, including friends with benefits for sexual satisfaction.